Our next event takes place on Wednesday 25 May 2022 at 6pm UK time, 8pm Israel time. Register now!

Join TalkMatters to hear all about Tech2Peace's unique initiative that brings together young Palestinians and Israelis to study the latest technological trends and to participate in serious dialogue.  In addition to our inspirational speakers, we are invited to see live coverage of a seminar that is happening at the very time we are on zoom.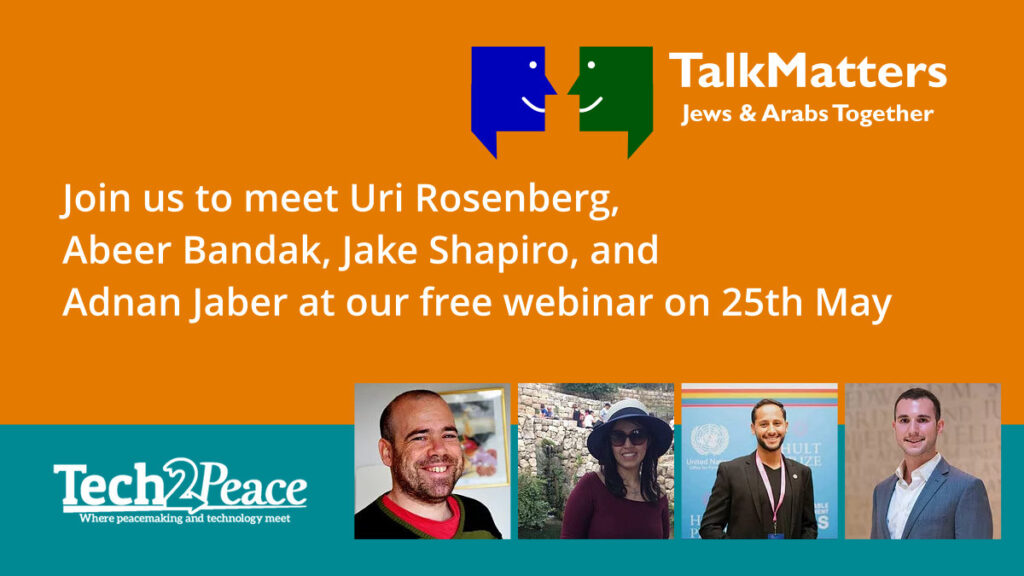 About our speakers
Uri Rosenberg lives in Israel and the UK. He is a co-founder of Tech2Peace and one of the leading dialogue trainers in the Tech2Peace seminars. He has just completed his PhD. dissertation in Middle East studies, focusing on Modern Turkish political history.
Abeer Bandak lives in East Jerusalem. She is a co-founder of Tech2Peace. She worked for 10 years in the UN, and leads dialogue for Tech2Peace and for other projects in Israel, Palestine and Europe.
Adnan Jaber lives in East Jerusalem. He is a Tech2Peace alumni and volunteer since his first seminar in 2018. Adnan is the only alumni on the board. He's a social entrepreneur, and founder of Yalla Reyada – an Arabic-language fitness app.
Jake Shapiro is originally from Washington DC and has been living in Israel for two years. Jake works in resource development and dialogue facilitation for Tech2Peace.